Choir & Choristers
Music is a vital part of worship at Christ Church. As an Episcopal congregation, we cherish our glorious heritage of Anglican choral music — hymns, psalms, and service music that reflect upon the day's readings and feed our minds and souls.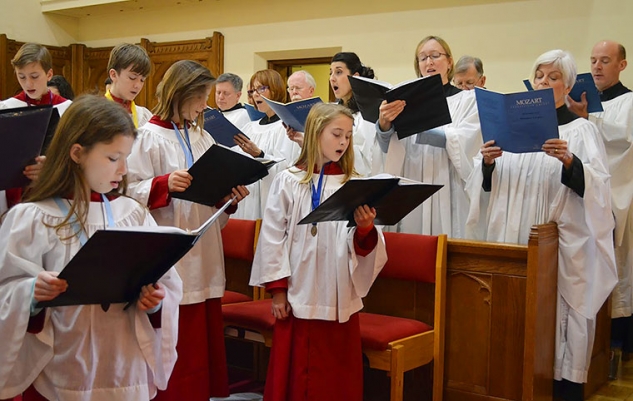 Our choirs for children, teens and adults serve both to lead congregational singing in worship as well as provide a unique opportunity for spiritual expression and growth. We are blessed with a wonderful pipe organ, portable chest organ and two Steinway grand pianos, plus strings and brass accompaniment for special occasions. Whether you are in the pews or choir stalls, we hope you are enriched by our musical offerings at Christ Church!
Adult Choir
The Christ Church Choir consists of women and men volunteers who join the Children's Choristers in leading the 10:00 a.m. Sunday service and other special services. Teens and adults are welcome to audition at any time during the year.
The Choir sings a challenging, traditional repertoire that draws on a range of styles and historical periods from medieval chant to recently commissioned choral compositions. In addition to leading hymns and congregational service music, we chant the Gradual Psalm and sing an Offertory Anthem and Communion Motet. We also present monthly choral settings of the Eucharist ("Mass of the Month") often a Viennese Classical Mass with strings or an a cappella masterwork of Renaissance polyphony.
The Choir has made a number of musical pilgrimages singing sevices at Westminster Abbey, Canterbury Cathedral, St. George's, Windsor, St.Thomas and St. John the Divine in New York City, as well as churches and the National Cathedral in our own diocese.
Rehearsals are held Thursday evenings from 7:30 p.m. to 9:30 p.m., with a Sunday warm-up at 9:00 a.m. for the 10:00 a.m. service.
Children's Choristers
Girls and boys in grades 3 - 8 are invited to join the Choristers in leading the 10:00 a.m. worship service. No previous musical background is required. Instruction is based on the curriculum of the Royal School of Church Music.
The Choristers' regular participation in leading liturgical worship is a fantastic experience of ritual and spirituality, as well as an excellent foundation in vocal production and music reading.
Rehearsals are held Thursdays from 5:00 p.m. to 6:00 p.m. Sunday warm-ups are held before the 10:00 a.m. service.
Summer Choir
During the summer months, all adults and children are welcome to participate in the choir. Rehearsals are held at 9:15 a.m. before the 10:00 a.m. Sunday service. Come for a single Sunday or several weeks. We sing a simple Psalm, Anthem, and Motet.