Music Program
Music is a vital part of worship at Christ Church. As an Episcopal congregation, we cherish our heritage of Anglican and American choral music through hymns, psalms, and service music that tie together the day's readings for a unified message.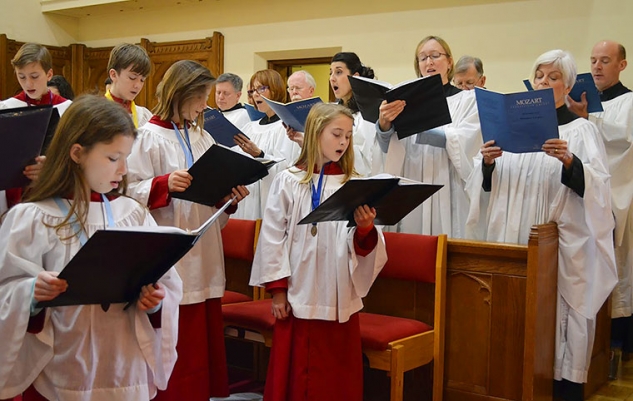 We are blessed with a wonderful pipe organ, a small positive (trunk) organ, a Steinway grand piano, plus instrumentalists for special occasions. We also have gifted instrumentalists, adults and children, in our congregation who participate in our music program. When needed, we bring in outside talent to enhance our morning worship. Our spacious Music Suite has wonderful acoustics and ample space to accommodate choir rehearsals, a vast music library, and Music Director's office.
Whether you are in the pews or choir stalls, we hope you are enriched by our musical offerings at Christ Church!
Adult Choir
The Christ Church Choir consists of women and men volunteers who lead the 10:00 a.m. Sunday service and other special services.
The Choir sings a challenging, traditional repertoire that draws on a range of styles and historical periods from medieval chant to recently composed choral compositions, as well as a blend of Anglican and Episcopalian traditions including spirituals. In addition to leading hymns and congregational service music, the choir sings anthems during the Offertory and Communion.
The Choir has made a number of musical pilgrimages, singing sevices in England at Westminster Abbey, Canterbury Cathedral, and St. George's, Windsor. In the U.S., they have sung at St. Thomas and St. John the Divine in New York City, as well as the National Cathedral and churches in our own diocese.
Rehearsals are held Thursday evenings from 7:30 p.m. to 9:30 p.m. in the Music Suite with a Sunday warm-up at 9:00 a.m. for the 10:00 a.m. service.
Chorister Choir
Girls and boys, grades 3 - 8, are invited to join the Chorister Choir who sing on various Sundays for the 10:00 a.m. worship service. No previous musical background is required. Instruction is based on the Royal School of Church Music curriculum.
The Choristers not only develop their vocal skills, but they also learn basic music reading. By participating in the worship service, they also learn:
how to sing hymns and service music from the hymnal,
why certain rituals occur during the liturgical worship, and
what music selections are sung at various times of the church year.
At the moment, the Chorister Choir is on hiatus due to COVID. .
Summer Choir
During the summer months, the choir sings an easy or familiar anthem once or twice a month (soloists, duets, or instrumentalists provide music for the other Sundays) which gives the choir a well-deserved break. Some choir members do come and sing during the summer; however, there is no mid-week rehearsal. This provides an excellent opportunity for those who cannot commit to a weekly rehearsal, to come and sing on Sunday mornings. Music can always be provided in advance, and there is an extended rehearsal on Sunday morning before the service. We welcome those who want to "try before you buy" and enjoy leading the congregation in music during this more relaxed time of the year.