Instruments of Christ Church
We are blessed with a wonderful pipe organ, a small positive (trunk) organ, two Steinway grand pianos, handbells, choirchimes, and timpani.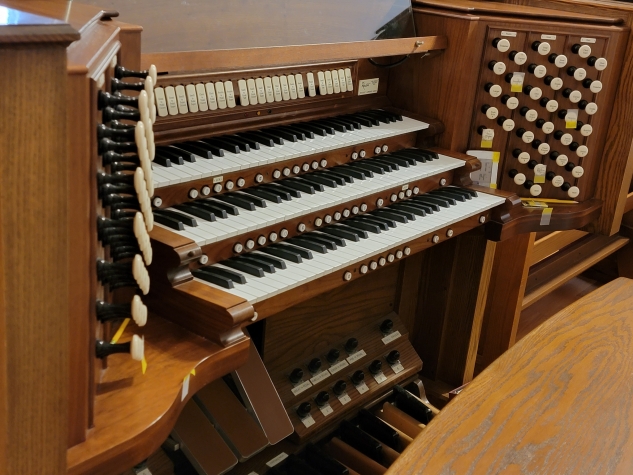 ORGANS
Early History
It is likely that Christ Church possessed a harmonium or reed organ sometime in the 19th century. There is some evidence, but not conclusive from the church records of an organ installed in 1854 by Henry Berger from Baltimore, MD. The casework may have been reused by its 20th century replacement. The company had an advertisement stating, "Two identical organs for Episcopal Parish of Prince Georges County (sic)". If so, both Rock Creek and Christ Church got organs at that time (since they were the same parish at that time). The ad stated one of these 1-manual organs had a Gothic case and one had a Grecian case which fit the two church's architecture. The assumptions have been made the 'Gothic' one was for Christ Church.
Lewis & Hitchcock
In 1919 the firm of Lewis & Hitchcock, Inc., Washington, D.C., installed Opus 102 (their second organ) in Christ Church. This was a state-of-the-art 11 stop organ operated by electro-pneumatic action. It was located on the left-hand side of the original nave near the altar. This organ was donated by the Women of Christ Church. The organ was sold to Trinity United Methodist Church, Alexandria, Virginia in 1966 where it served for many years until it was recently replaced by a new and larger pipe organ.
Reuter Organ
The Reuter Organ Company of Lawrence, Kansas, installed Opus 1527 for Christ Church in late 1966 and early 1967 at the same time the sanctuary was enlarged. This organ was 26 ranks and played on a 2-manual console. The organ design included part of the Great division under expression.
In 2002, exploratory studies were conducted for an expansion of the Reuter organ to increase the range of organ music it could play as well as provide more colorful choral accompaniment and better lead the congregation in hymns and service music. After considering two companies, it was recommended to award the contract to Reuter for the rebuilding and enlargement. The contract was signed in December 2002 with Reuter increasing the organ by 10 ranks and building a new 3-manual console. Months later, work commenced with the disassembly and removal of the organ to the Reuter Factory with the existing 2-manual console sold to a church in Oregon. The new pipes and new console arrived in September 2003 followed by months of installation and revoicing (finishing) of the pipes. The organ has a total of 36 ranks and 2,106 pipes. The organ was dedicated on October 17, 2003 by English organist, Andrew Fletcher.
Download Full Specifications of Reuter Organ (PDF)
Oberlinger Portative Organ
In addition to the Reuter organ, Christ Church possesses a three stop Portative organ (trunk organ) built by Gebruder Oberlinger from Windesheim, Germany. Historically, these small Portative organs played within a Baroque orchestra. Completely self-contained with a blower beneath the pipes, this organ is equipped with handles so it can be moved to other parts of the church. The keyboard has 51 notes and has a total of 153 pipes of 3 stops: 8' Copula, 4' Gedackt and 2' Flöte. This organ was generously donated to the church in 2002 and resides in the Chapel.
PIANOS
Christ Church is fortunate to have two Steinway grand pianos. In the Nave, the 5'11" Steinway "L" was built in 1925 and was completely refurbished by Jordan Kitts Music, Rockville MD in 2017/2018. This piano was graciously donated to Christ Church in 2019 and has a full range of dynamics to fill the room. It is perfect for accompanying as well as solo repertoire.
In the Music Suite, the 6'2" Steinway "A" was built in 1907 and was purchased in 2011 from the estate of Ted and Cai Conway with gifts raised from choir and congregation members . This piano has a gentler sound and is used for accompanying the choir during rehearsal.
HANDBELLS AND CHOIRCHIMES
The first three octaves of handbells were purchased in 1977 from Schulmerich. In 1988, a fourth octave was added as well as eight Schulmerich bell tables. The bells were completely refurbished by Schulmerich in 2019.
In 2020, five octaves of Choirchimes were purchased from Malmark. Also at the same time, new custom-made bell table covers were purchased for the Schulmerich bell tables.
TIMPANI
Christ Church owns two Ludwig Timpani in two different sizes. The Timpani were refurbished in 2019 and are used on Easter as well as other festive Sundays.