Children & Youth
Christ Church is committed to serving the needs of our youth through all stages of their development. We offer extensive programs for children and their families, including nursery care, Sunday School, Children's Church, Youth Group, and more.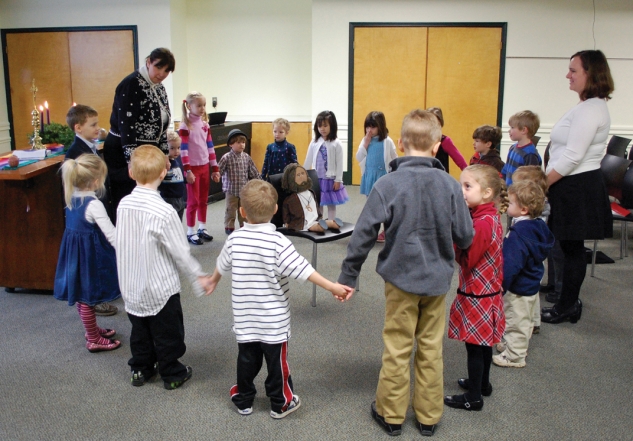 Nursery
Childcare is available Sunday mornings during the 10:00 a.m. service for ages six months to 4 years, as well as at selected special services during the year. Our nursery room is staffed by trained aides and stocked with toys, books, and appropriate videos, as well as toddler-sized bathroom facilities and changing table. Pagers are provided to notify you during the service if your child needs assistance.
Christian Education
Christian Education is the process by which we become equipped, in the name of Jesus Christ, for ministry in God's world. Since the formal Christian education of Christ Church can only supplement the learning that takes place at home, we try to offer an opportunity for children of all ages to experience faith as part of a community.
Sunday School
Christ Church offers Sunday school classes for children age 4 through high school. Each class is aimed at helping children experience faith at their level of understanding. Classes are held most Sundays, excluding summer, after the 10:00 a.m. worship service.
2021-2022 Sunday School Registration Form
Children's Chapel
Children's Church is a unique celebration of the Word and Holy Eucharist designed specially for children (preschool - fifth grade) using a storytelling theme. Children gather before the Gospel reading for activities in the Youth Room, and they rejoin their parents upstairs at the Peace for Holy Communion. Parents, siblings, and friends are always welcome.
Youth Fellowship and Service
Youth at Christ Church participate in fellowship and service activities to nurture their spiritual growth, including Youth Group, community service, and summer Mission Trips. We believe that youth are not only the future of the church but an important part of our everyday mission. Our youth actively participate throughout the church, including in worship, Sunday School education, Acolytes, Choristers, Nursery, Outreach, Greeters, Ushers, Lectors, and Adult Forums. Our goal is that our youth live out their faith in their daily lives.