Pastoral Care
As a Christian community, we are called to care and pray for one another. Christ Church pastoral care activities include prayers for healing, visiting and worshiping with the sick and elderly, and supporting each other in times of need.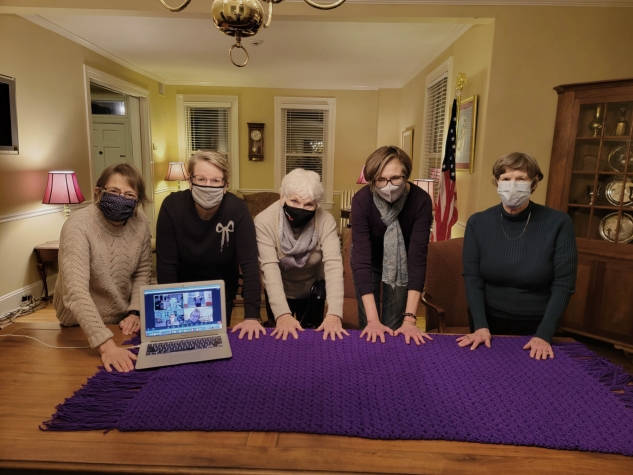 Pastoral Care Committee
The Pastoral Care Committee has one clear mission: to pray for people who have requested prayers for healing and/or special needs. The group meets the first Tuesday of each month. A clergy member is in regular attendance. We welcome members to this joyful ministry.
If you or a loved one ever feels the need of prayer for healing of body, mind, or spirit, the Pastoral Care Committee is ready to respond to your need. Please contact the clergy to let them know what your needs or concerns are, and the clergy will then contact the Pastoral Care Committee so its members can begin praying for you and/or your loved ones.
The Pastoral Care Committee meets once a month at 7:00 p.m. in the Parish House where we update the public and private prayer lists and offer prayers for those requesting them.
If you would like to add yourself, a loved one or friend to the Christ Church Prayer List, please use the online Contact Form and select "Prayer Request" or contact the church office at 301-762-2191.
Prayer Shawl Ministry
Shawls that have been knitted or crocheted by parishioners are blessed and then delivered upon request to recipients so that they will know they are covered by God's grace and love. Anyone with an interest in knitting or crocheting a shawl is invited to do so and give it to the Pastoral Care Committee. Contact the church office to request a prayer shawl.
Flower Delivery Ministry
Following the last service on Sundays, a volunteer delivers the altar flowers to individuals designated by the Rector, along with a note from the Rector. Each volunteer serves for one Sunday a month.
Christ Church Chefs Ministry
Christ Church Chefs provide simple meals for parishioners who are ill, recovering from surgeries, medical treatments, and other family crises. Parishioners may sign up to prepare the food, make the deliveries and/or make a pastoral visit.
All Saints Walk and Columbarium
The All Saints Walk and Columbarium at Christ Church features a walk of imprinted bricks, donated by members of the Christ Church and Rockville communities, with the name of loved ones, in recognition of all the saints of God who have been or who are still with us. It also includes a columbarium in a garden setting.