Youth Fellowship & Service
Youth at Christ Church participate in fellowship and service activities to nurture their spiritual growth, including Youth Group and community service. We believe that youth are not only the future of the church but an important part of our everyday mission.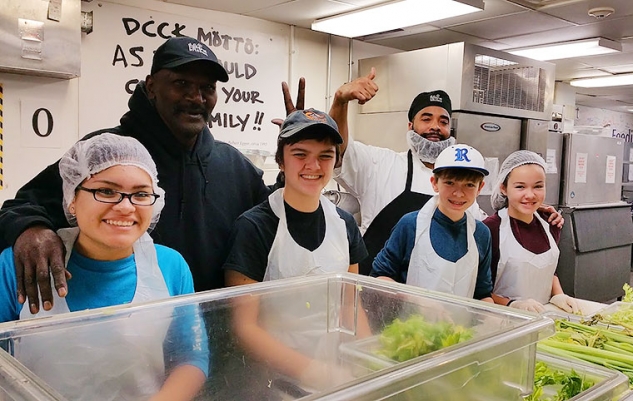 Our youth actively participate throughout the church, including in worship, Sunday School education, Acolytes, Choristers, Nursery, Outreach, Greeters, Ushers, Lectors, and Adult Forums. Our goal is that our youth live out their faith in their daily lives.
Youth Group
This program for grades 6 - 12 is designed to build relationships and fellowship between youth. Youth Group provides:
The opportunity to experience life by living and working together in ways that incorporate Christian values and practices
Nurturing for the spiritual growth of each individual
The chance for youth to discover a "soul-shaking, heart-waking, world-changing God"
Youth group typically meets on Sundays during Sunday School hour for a time of learning and planning. We also participate in a cooperative of youth groups in our CenMoCo Region, including those from St. James and St. Francis. During the course of the year, the youth groups meet for activities at the three churches for fun and service activities. Below is a schedule of events planned for Spring of 2022. Please call the office (301-762-2191) to RSVP to these activities.
JANUARY
January 18: Zoom Mission Trip Meeting
January 23: Movie Night at St. Francis.
January 26: Self-Defense Workshop at Saint Francis (intergenerational)
FEBRUARY
Feb 13: Superbowl Sunday (No Youth Group)
February 6: Cards for Seniors at St. James
February 20: Hangout Night – Youth Group at Christ Church, Rockville
MARCH
March 1: Shrove Tuesday Pancake Supper/Mission Trip Fundraiser at St. Francis
March 13: Men's Shelter Volunteering- meal preparation
March 20: Men's Shelter Volunteering-meal preparation
March 27: Rockville Fire Station Trip/Outreach. Gift bags and cards. Have kids bring cookies or a treat to share.
APRIL
April 3: Peeps Dioramas (St. James)
April 10 &17: Palm Sunday/Easter (No Youth Group)
April 24: Trivia Night or Guest Speaker (St. Francis)
MAY
May 8: Mother's Day (No Youth Group)
May 1: Guest Speaker at Christ Church Rockville
May 15: Minigolf
May 29: Outdoor Movie/End of Year Celebration