The Rev. Timothy P. Carr
Rector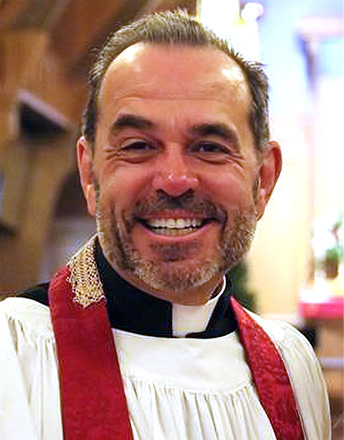 The Reverend Timothy P. Carr joined Christ Church in November 2022 as our 27th permanent rector. He was previously the Priest at All Souls' Episcopal Church in Miami Beach and St. John's Church in Boonton, NJ, as well as serving at All Saints Church in Hoboken, NJ, and St. Edward the Martyr in Harlem, NYC.
Fr. Tim is motivated to "seek and serve Christ in all persons, loving our neighbors as ourselves" and believes the Church is the sacred center of spiritual strength and inspiration to fulfill that promise.
A creative leader with strong administrative and strategic planning skills, Fr. Tim led All Souls to a renewed focus on strengthening the church's stewardship of property and finances, while simultaneously continuing to grow its outreach ministry, especially in children's and feeding ministries.
Fr. Tim has been an active leader in numerous diocesan and interfaith activities. He is trained as a conflict mediator, vocational discernment specialist, an educator in church history, and a congregational growth specialist.
Within the wider community, Fr. Carr has been recognized by the Union of Black Episcopalians with their Clara Horsley Leadership Award, and he was honored as Citizen of the Year for his engagement with a broad range of charitable efforts in Boonton, NJ. He served as a chaplain for the Miami-Dade Correctional System, Miami Beach Fire and Rescue, the Boonton Ambulance Squad, and the New Jersey Firemen's Home.
Fr. Tim is a graduate of Thomas Edison State University in Trenton, NJ, with a B.S. in Psychology. Before earning his M.Div. from the General Theological Seminary in New York, Fr. Tim had a career in the cosmetic and fragrance industry, including stints as the Vice President of Sales or Marketing for several well-known brands, such as Yves Saint Laurent, Giorgio Beverly Hills, and Shiseido.
Fr. Tim Carr is married to Dr. Edwin A. Acevedo who is the principal of a public charter school in D.C. They have a grown son named Mario. Their dogs Barney, a Cocker Spaniel, and Teddie, a rescue terrier, both enjoy the role of parochial pooches.