About Us
Welcome to Christ Church! We invite you to learn more about our vibrant faith community, attend our 10:00 a.m. Sunday worship service, and engage in our many ministries. We serve parishioners of all ages, backgrounds and stages in their spiritual journeys.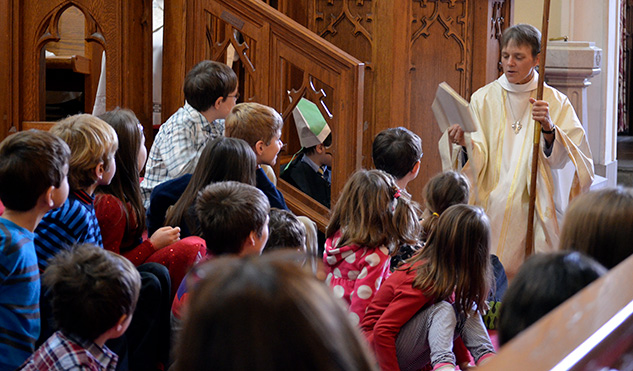 Who We Are
As Episcopalians, we are followers of Jesus Christ, our Lord, and we believe in the Father, Son, and Holy Spirit. Learn more about our Beliefs and Practices.
Our vision is to serve and glorify God as a Community in Christ, embrace and impart the teachings of Jesus, affirm the Anglican liturgical tradition, share God's abundance and grace and be culturally diverse, dynamic, and welcoming to all.
Christ Church celebrates our strong sense of family as a multi-generational manifestation of Christ. We are a family who practices Christ's unconditional love by accepting, supporting, and challenging one another. We seek involvement from our whole community and no one is excluded from participation due to their circumstances in life. We also seek to enable all our members to discover ministries to which they are called and to validate the gifts they have to offer.
Christ Church is an Episcopal congregation founded in 1739 as the core church of colonial Prince George's Parish. We are located in downtown Rockville, Maryland, and hold Sunday worship services at 10:00 a.m. (Please check the Church Calendar for current service times.) Christ Episcopal School, which serves children in preschool through grade 8, is a mission of Christ Church.
Worship at Christ Church
At the heart of our church life is the beautiful worship tradition of the Episcopal Church, as part of the world-wide Anglican communion. In-person Sunday worship services are held at 10:00 a.m. Worship services at Christ Church follow the traditions of the Book of Common Prayer; each service includes celebration of Holy Eucharist and a sermon, with music by our Adult Choir. All who seek Christ are welcome to receive Holy Communion.
Our Clergy
Christ Church is currently led by our new rector, the Rev. Timothy P. Carr. Father Tim joined Christ Church in November 2022 and was previously the Priest at All Souls' Episcopal Church in Miami Beach and St. John's Church in Boonton, NJ.
Our Ministries
Christ Church is a very active community that enjoys fellowship with one another and is committed to Christian education for Youth and Adults, Community Ministries activities, Pastoral Care, Stewardship of the earth and its creatures, and Reconciliation and justice for all.