Ministries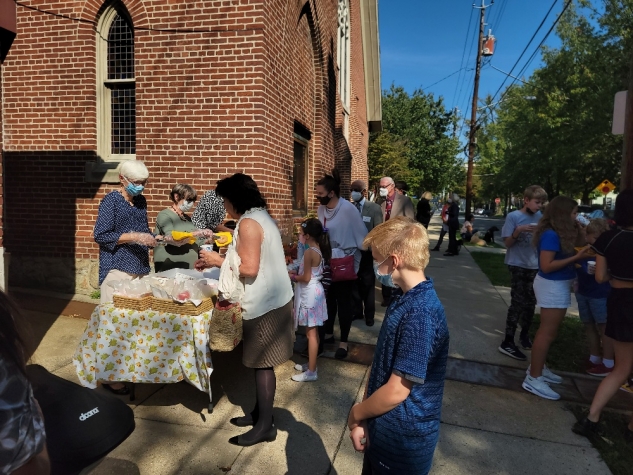 Worship
Worship is a team effort at Christ Church. There are opportunities to participate as Lay Eucharistic Ministers, readers, welcomers, acolytes, offering counters, and with our Altar Guild.
Children & Youth Programs
Christ Church serves the needs of our youth through all stages of their development, from Baptism to Communion classes, confirmation and beyond. We offer nursery care, Godly Play and Spark Sunday School, and more. Christ Church is a partner in the regional youth ministry, Montgomery Episcopal Regional Caring Youth (MERCY), which also includes St. James in North Potomac and St. Francis in Potomac, led by Pastor Allison Michael. Our acolyte corps also contributes to the youth offerings at Christ Church.
Adult Christian Formation
Christ Church offers many opportunities for study and prayer. These include discussions on Christian faith, special Advent and Lenten studies, and much more. Our weekly Adult Forums address topics ranging from Biblical history to spiritual development to updates on Diocesan activities.
Fellowship & Welcoming
We foster fellowship through many social activities: Sunday coffee hours, supper get-togethers, receptions for church newcomers, and other special events.
Community Ministries
Parishioners actively participate in efforts to assist others. Activities include preparing meals for local people in need, ESOL conversation classes, packing non-perishable meals to ship overseas, and partnering with local charities to assist the hungry and homeless..
Pastoral Care
Our Pastoral Care committee meets monthly to pray for parishioners and friends that are in need. In addition, they maintain a prayer shawl ministry as well providing meals for those temporarily in need.
Beloved Community
We invite everyone to join us as we seek the paths of peace, forgiveness, and reconciliation to help realize, "a global vision, in which all people can share in the wealth of the earth."
Care of the Environment
The Environmental Stewardship Committee seeks to conserve and protect our natural world through prayer, education, and outreach activities that make a difference in our parish and the wider community.
Stewardship 360
The Stewardship Committee works closely with the Budget Committee and the Vestry to receive and communicate the goals of the Annual Stewardship Pledge Campaign and to help articulate the importance and need to provide the resources necessary to keep our faith community strong and vibrant.
Communications
Christ Church is committed to informing and engaging with parishioners and prospective members in ways that strengthen our parish community and make known the love of Christ.