St. Francis Flock
I will remember my covenant which is between me and you and every living creature of all flesh. — Genesis 9:15
St. Francis Flock is an animal welfare ministry, formed within the existing structure of the Episcopal Church, that seeks to honor God by being good stewards of God's creatures.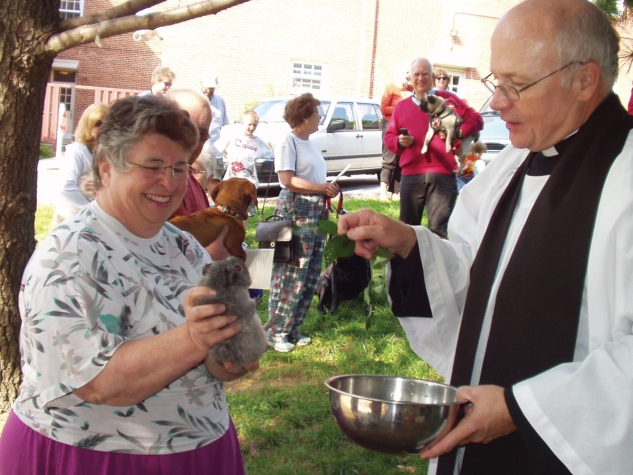 St. Francis Flock focuses on three main areas:
Parish Ministry and Fellowship

includes pastoral

visits, prayers, and support for the bereaved and

their pets; Blessing of the Animals and an Annual Pet

Memorial Service; emergency aid in the form of vet

transport assistance for seniors/disabled and pet food

supply; and hospitality by including vegetarian options

at parish functions.

Education and Communication includes

organizing Adult Forums to promote awareness about

animal welfare issues within the congregation, serving

as a liaison to coordinate with and support existing

animal welfare eff orts within the church, and providing

information to the congregation via The Angelus and/

or weekly bulletins.

Community Outreach activities include working with Chompers, a pet food bank which provides pet food for people who would otherwise have to give up their pets; collecting and delivering provisions, such as blankets, towels and toys, for local non-profit animal welfare organizations;

field trips to animal

welfare organizations including animal sanctuaries;

and working with the Environmental Stewardship

committee to support wildlife by clean-ups and

enhancements

.
All who feel called to expand their circle of compassion, please join us!
---
Christ Episcopal Church is an animal friendly congregation. In addition to supporting St. Francis Flock, we serve plant-based options at church sponsored meals, hold an annual Blessing of the Animals on or around the Feast of St. Francis day (Oct. 4), provide pet illness and bereavement support counseling to parishioners, and engage in other animal welfare practices. To learn more about animal friendly congregations, please visit the Episcopal Network for Animal Welfare (ENAW).