The Bargain Box
To everything there is a season, a time for every purpose under heaven - Ecclesiastes 3:1
GOODBYE
As we close the door and turn out the lights for the last time, we would like to thank our volunteers, consignors, customers, donors, and friends without whom we could never had 63 wonderful years in business in Rockville. We will miss you all.
- The Bargain Box
In 1957, The Bargain Box was commissioned as an all-volunteer outreach ministry of Christ Episcopal Church. In 2005, the Vestry approved The Bargain Box Committee's mission to use its profits to support outreach programs in Rockville and Montgomery County that feed, clothe, or house residents in need as well as similar activities of CEC, Youth Group, Sunday School, CES, EDOW, and Epscopal Relief and Development.
On Friday, March 13, 2020, the pandemic required us to close "temporarily," but as time wore on, the Committee members had concerns about when and how we would be able to reopen for business. Such an action would require substantial and extensive new procedures, store hours, and sales floor designs to ensure the health and safety of our volunteers, shoppers, consignors, and those dropping off donations. After several months, the Committee members reached the decision to close The Bargain Box permanently.
Concerned about our lease that ran through November 2023, in July we consulted a long time parishioner, Lynn Perry Parker, who is a business lawyer and litigator to help us. On a pro bono basis, Lynn provided notice to the landlord that The Bargain Box was terminating its lease and dealt with the landord's attorneys regarding our legal positions justifying the early termination. The Bargain Box vacated the premises on Saturday, October 31, 2020. Lynn has counseled the Committee on potential outcomes and remains available to address further developments, if any.
From Saturday, August 8 through Friday, October 16, we reopened by appointment only for current customers, consignors, and members of the congregation to shop. No new donations were accepted. Volunteers continued to price off season and holiday items from storage. Sales were brisk. During this time, leaders from local charitable organizations were invited to tour the store to pre-select which items they could use and schedule a pick up date.
On Saturday October 17, volunteers began to pack up all remaining inventory to be donated to local charities. Trucks were schedued each day from Wednesday (21st) through Tuesday (27th) so they had to sort and label quickly.
By Thursday, October 29, the store was completely empty, dusted, swept, mopped, and vacuumed. Volunteers and supporters were invited to an Open House on Saturday, October 31, for a last photo op (Masked!), a slide show of the work effort that had been accomplished, and a tour of the empty store, all with ample social distancing space! Keys were turned in, utilities cancelled, and the mailing address changed to the church office.
We were blessed to support many worthy ministries within Christ Church and our community for nearly sixty-three (63!) years. Countless adult and youth members of Christ Church, friends, neighbors, and customers staffed the front desk, sorted and priced donations, managed consignments, set up displays, wrote bulletin blurbs, and Angelus articles, refreshed our Website and Faceback page, worked third Sunday sales, kept financial records, and so much more. We are thankful for the efforts of every volunteer and honor the memories of those who have passed, especially our managers Edna Black, Henrietta Shearman, Cai Conway, and Nellilewis Quay.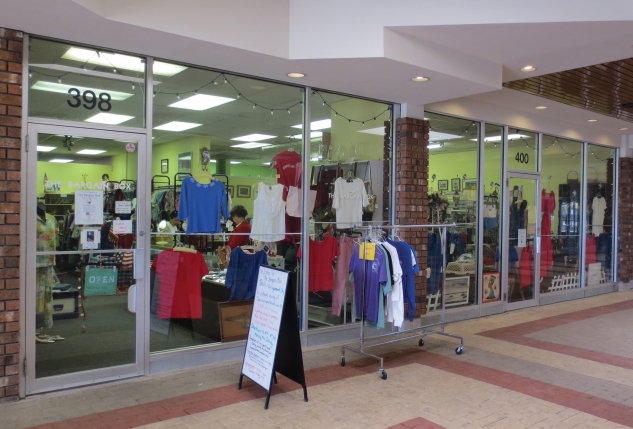 Where Did Our Money Go?
JANUARY 2020 - FEBRUARY 2021 BARGAIN BOX DONATIONS TOTALLED $38,555
CHRIST CHURCH OUTREACH ACTIVITIES
InterimRectors' Discretionary Fund
Christian Education SOS & Youth
Outreach Committee
LOCAL FOOD BANKS & SHELTERS
Frederick Rescue Mission
Interfaith Works Covid Appeal
Interfaith Works Food Hub
Manna Food Center
Rainbow Place Women's Shelter
Rockville HELP
Stepping Stones Shelter
LOCAL SUPPORT SERVICES for Children & Families
Comfort Cases
Community Reach of Montgomery County (Senior Reach Program, Kasedman Health Clinic, REAP Rockville Emeregency Assistance Program )
Interfaith Works Connections
Sheppard Pratt/Betty Ann Krahnke Center
Shady Grove Pregnancy Center
A Wider Circle
EPISCOPAL DIOCESE OF WASHINGTON
Episcopal Diocese of Washington Hunger Fund/Covid Emergency Appeal
Episcopal Relief & Development Covid Response
2020 NON-MONETARY DONATIONS TO LOCAL CHARITIES
These donations were equipment, supplies, display units and inventory remaining upon closure.
Christ Episcopal Church - dishwasher
Christ Episcopal Church Youth Group - metal book shelves, folding tables, wicker chest, utility cart, side tables, tier storage rack, brochure & sign holders, book easels, crosses & ribbon
Frederick Rescue Mission - shoe display rack, men's clothing & shoes, wheeled clothing racks
Friends of the Library - adult & children's books, cook books, coffee table books
Goodwill - kitchen items, pottery, hosewares, electronic supplies
Inglesia Pentecostal Church of Gaithersburg - clothing, coats, toys
Interfaith Clothing Center (two men, three truck loads!) - rolling clothing racks loaded with clothing, shoes, display shelves, folding chairs, office chair, Halloween costumes, Easter & Christmas decorations, housewares, greeting cards, wire grid shelf units, art work, pillows, linens, baskets, craft cart, utility shelves, clothes hangers with storage racks, mirrors, plastic storage bins
Kindercare Learning Center - break room shelves, cabinets, countertop, microwave, Keurig
Medstar Olney Thrift Shop (four men, 14' U-Haul & minivan, two trips!) - jewelry cases, shelving & racks, book case, wall unit clothing racks, books, clothing mannequins, storage cabinets, merchandise pricing supplies
Sandy Spring Slave Museum (five men, 3 pick-up trucks!) - cash register, jewelry case, clothing mannequins, mirrored display boxes, folding table, book case, wrought iron hat & display racks, riser shelves
Wagging Tails Thrift (MOCO Humane Society) - CDs and DVDs
A Wider Circle - dishes, art work, book cases, display shelf
2019 BARGAIN BOX DONATIONS TOTALLED $11,150.00
CHRIST CHURCH OUTREACH ACTIVITIES
Rector's Discretionary Fund (CEC families in need)
Assistant Rector's Discretionary Fund (CEC families in need)
English Conversation (ESOL) Classes
Outreach Committee Rise Against Hunger Event
LOCAL FOOD BANKS & SHELTERS
Animal Welfare League of Montgomery County (Chompers Pet Food Bank)
Frederick Rescue Mission
Interfaith Works
Manna Food Center
Rainbow Place Women's Shelter
Rockville HELP
City of Rockville Holiday Fund Drive
LOCAL SUPPORT SERVICES for Children & Families
Birthright of Montgomery County
Community Ministries of Rockville
Elderly Ministries Program
Kaseman Health Clinic
REAP (Rockville Emergency Assistance Program)
Interfaith Works
Stepping Stones Family Shelter
A Wider Circle
EPISCOPAL DIOCESE OF WASHINGTON
Episcopal Diocese of Washington Hunger Fund
Episcopal Relief & Development