Worship
At the heart of our church life is the beautiful worship tradition of the Episcopal Church, as part of the world-wide Anglican communion. Sunday worship services are held at 7:45 a.m. and 10:00 a.m. We hope that you will be fed, nurtured, and sustained by our liturgy.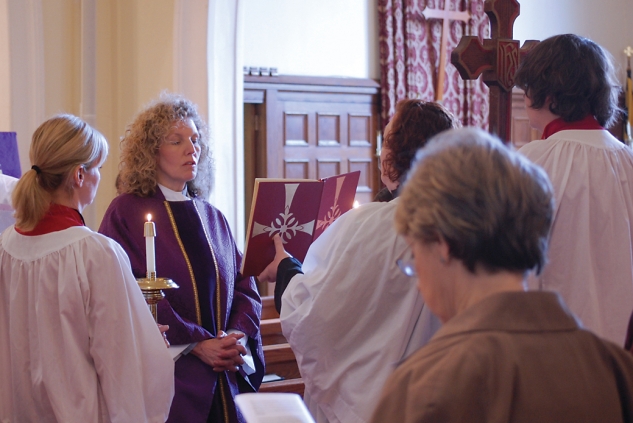 Worship Tradition
The Episcopal Church is sometimes called a "bridge" church, because of our strong affinities with both Roman Catholic and other Protestant churches and our respect for all faith traditions. Our worship consists of music, prayers, readings from Scripture, and a sermon, followed by what we call the celebration of Holy Eucharist or Holy Communion, a sacred act of remembering and reliving Jesus' last meal with his disciples. All who seek Christ are welcome to receive Holy Communion.
Our worship is traditional in many ways and quite innovative in others. It is that combination of tradition and innovation that gives the Episcopal Church its distinct feel.
Worship Services
Christ Church offers a variety of worship services to best serve our parishioners' needs and schedules. Please check the church's website calendar for specific dates and times, especially during Holy Week, the Christmas season, and at the transitions between the winter and summer schedules.
Our 9:00 a.m. service tends to less formal practice and draws more families and children, while the 11:00 a.m. service may include more ceremonial practices and traditional choral music. We also offer a contemplative 7:45 a.m. service without music. During the summer and at selected times throughout the year, we celebrate at 7:45 a.m. and at a combined 10:00 a.m. service.
We offer nursery care for children aged 6 months to 4 years with silent pagers available. Children's Church is available during the 9:00 a.m. service for children in pre-school through third grade. The services use music and a storytelling format to communicate the same lesson as the adult sermon. Children join their parents upstairs at the Peace.
Assisted listening devices are available if needed. Please speak with an usher if you have any special needs.
Winter Schedule (September - May)
7:45 a.m. Holy Eucharist
We celebrate a quiet, reflective early morning service, including a sermon and without music.
9:00 a.m. Holy Eucharist
The 9:00 am service especially welcomes families with children. The children's choir sings. Younger children can attend Children's Church.
11:00 a.m. Holy Eucharist
The more formal 11:00 am service is welcoming to all, featuring rich congregational and choral music led by the full adult choir.
Summer Schedule (June - August)
7:45 a.m. Holy Eucharist
We celebrate a quiet, reflective early morning service without music.
10:00 a.m. Holy Eucharist
This service includes components of both the 9:00 a.m. and 11:00 a.m. winter services with music by the summer choir.
Wednesday Holy Eucharist
A small, informal service is held in the Chapel at 12:10 p.m. every Wednesday and includes a short homily and a healing rite.
Worship Music
Christ Church has a rich musical tradition embodied in our Adult Choir and Children's Choristers. The Choristers sing at the 9:00 a.m. service, and the Choir leads the 11:00 a.m. service. We sing a challenging, traditional repertoire that draws on a range of styles and historical periods.
Lay Participation in Worship
The laity participates in leading worship. At the Sunday Eucharist, members of the congregation bring the bread and wine to the Altar at the offertory and serve as lectors for the reading of the lessons. Laity also serve as Acolytes, Lectors, Lay Liturgical Eucharistic Ministers, and Ushers. Frequently, a healing ministry takes place at a side Altar during the distribution of Communion.