Clergy & Staff
Get to know our clergy, staff and Vestry. For more information on our search process for a new Rector, please visit our Rector Search page.
Clergy
The Rev. Debra J. Kissinger, Interim Rector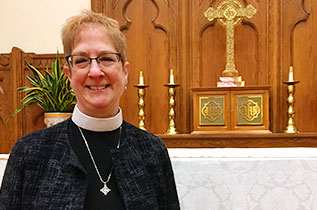 Mother Debra was raised in Pottsville, Pennsylvania. Prior to her calling as a priest, she worked in the marketing and money management field. She has degrees in Business Administration and Sociology from Penn State University (81) and LaSalle University, Philadelphia (88), respectively. She earned her Master of Divinity degree from Berkley Divinity School at Yale University, New Haven, Connecticut (92). She went on to serve as a clergy assistant at Church of St. Barnabas, Irvington-on-Hudson, New York, as Vicar of St. Peter's Church, Oxford, Connecticut (93) and Rector of Grace Church, Willoughby, Ohio (97).
From 2001-2008, Debra served on staff in the Diocese of Bethlehem, Pennsylvania as the Missioner to Children and Child Advocate. From 2008 until June of 2018 Debra served on staff in the Diocese of Indianapolis, Indiana as the Canon for Transition Ministry and Leadership Development. Throughout these years Mother Debra coached over 30 search committees, vestries, and congregations through the search/transition process. She also mentored countless newly ordained and new-to-the-diocese clergy through their time of transition as they began a new ministry. Debra also serves as a bishop election search consultant for the Episcopal Church.
Debra looks forward to the next 10-12 years of her ministry as an Interim and bringing her years of wisdom and experience from the fields of transition, parish redevelopment, formation, and baptismal ministry formation to congregations in the midst of search. Debra is all about encouraging, equipping, and empowering others to be their very best in Christ's name.
The Rev. Cynthia "Cindy" Simpson, Assistant Rector
Cindy has many years experience as an ordained minister in the Baptist tradition. She received her Master of Divinity Degree at Southern Baptist Theological Seminary in Louisville in 1985, and was ordained at Highland Park Baptist church in Waco, Texas in 1987. She worked in Christian Formation for youth and families in Methodist, Presbyterian and Baptist church positions.
Cindy was Pastor of Chevy Chase Baptist Church and then Broadneck Baptist Church in Annapolis, before becoming Assistant to the Rector at St. Peter's Episcopal Church in Poolesville from 1999 to 2006. She was drawn to the Episcopal Church because of our rich liturgical worship tradition. She attended Virginia Seminary from 2004 to 2005 and was ordained to the priesthood in January 2008. In addition to serving as Assistant Rector, Cindy is chaplain of Christ Episcopal School.
Staff
Michele Craig, Director of Christian Education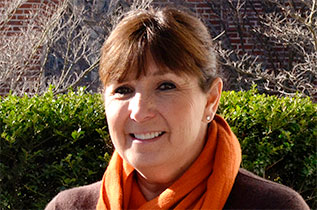 Michele serves part-time as Youth Director and part-time as Director of Children's Education. She is a member of the Diocesan Youth Coalition and Diocesan Children's Education Committee, and Chair of the Parish Youth Council and Christian Education Council. Michele is a former teacher and a Pastoral Visiting Lay Eucharistic Minister. She organizes and oversees all Sunday School, Youth Group, and Family Fun Night activities, and the annual Easter and Christmas pageants.
Tad Cavuoti, Director of Music & Organist
Director of Music & Organist at Christ Church since 1994, Tad provides inspiring accompaniments for hymn singing, gives imaginative leadership to the Choristers and Choir, writes music especially for the people of Christ Church, and serves as Cantor upon occasion. An active member of the Association of Anglican Musicians, AGO, and the Royal School of Church Music, he represents our parish and musician colleagues on the Diocesan Human Resources Committee. Since 1977 he has served as Music Director at the Landon School for Boys in Bethesda, where he directs singers and handbell ringers, teaches music history & composition, and organizes music festivals.
Judith Schneider, Parish Administrator
Judith serves as our Parish Administrator and is the person you will probably first speak to when calling the church office. She staffs the office Monday through Friday from 8:00 a.m. – 4:00 p.m. She is assisted by Maggie Schneider who works from 9:00 a.m. – 12:00 noon.