The Bargain Box
The Bargain Box is a thrift and consignment shop located in downtown Rockville a few blocks from the Church and just north of the Rockville Metro Station. We are open Monday through Saturday, 10:00 a.m. to 4:30 p.m. We accept cash only.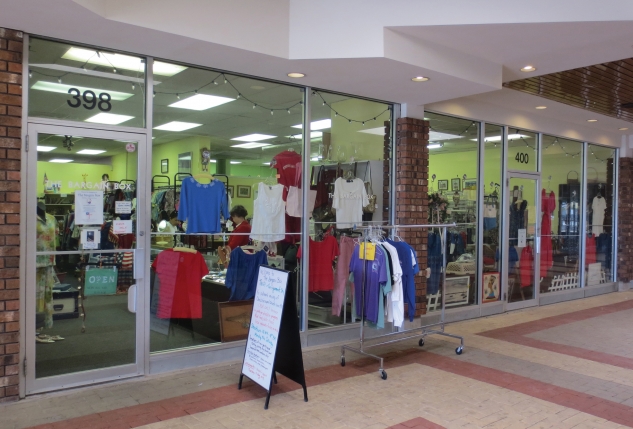 The Bargain Box sells clothing and household items at very affordable prices. All volunteers are members or friends of Christ Church. Bargain Box proceeds support outreach programs in the local community.
Download Our SEPTEMBER Sales Flyer
Summer Clothing Clearance Sale
Monday August 29 - Saturday September 3
All non-consigned summer clothing (including scarves, ties, belts, and hats) will be on sale for 80% off the ticketed price. ALL string colors, including green, red, and purple.
All non-consigned purses and jewelry will be on sale for 50% the ticketed price. This does NOT include backpacks, computer cases, briefcases, duffels and luggage.
Bargain Box Cookbook

The first ever Bargain Box Cookbook, full of recipes from volunteers and customers, is now available at the store for $10, or two or more for $9 each.
Where Does Our Money Go?
2015 BARGAIN BOX DONATIONS TOTALLED $25,685.40
Animal Welfare League of Montgomery County - Chompers Pet Food Bank
Christ Church Sunday School & Youth Group
YG three Mission Trips
YG Shelter Pizza Plus+ Meal
Serving Others Sunday (SOS) Activities
Christ Church Outreach Committee - English Conversation Classes
Stop Hunger NOW
Community Ministries of Rockville
Elderly Ministries Program
Kaseman Health Clinic
Rockville Emergency Assistance Program (REAP)
Cure Alzheimer's Fund - In Memory of volunteer Iness Davis
Episcopal Diocese of Washington - EDOW Hunger Fund
Episcopal Relief & Development - U.S. Disaster Fund
Family Services, Inc. - Betty Ann Krahnke Center
Frederick Rescue Mission - Summer Supplies & Holiday Wish List
Interfaith Works
Friends in Action Program
Holiday Giving Program
Manna Food Center - Summer needs & Holiday Wish List
MCPAW - Mont. Co. Partners for Animal Well-being
MCPS Educational Foundation - GIVE BACKpacks
Montgomery Hospice - In Memory of volunteer Iness Davis
Prison Fellowship - Angel Tree Project
Rainbow Place Shelter for Women
City of Rockville Holiday Fund Drive
Rockville HELP
Second Chance Wildlife - In Memory of volunteer Frank Braisted
Stepping Stones Shelter
A Wider Circle - Holiday Giving Programs
See What We Sell