The Bargain Box
The Bargain Box is a thrift and consignment shop located in downtown Rockville a few blocks from the Church and just north of the Rockville Metro Station. We are open Monday through Saturday, 10:00 a.m. to 4:30 p.m. We accept cash only.
The Bargain Box is currently closed due to the COVID-19 pandemic. We will re-open when it is safe to do so.
Update - June 8, 2020
June 8, 2020
Dear Bargain Box Friends,
We hope this message finds you and your families safe and well. We are looking forward to seeing you again, although we are not sure just when that will be. While some Montgomery County businesses have reopened under Phase 1, the guidelines and restrictions still prohibit the safe operation of our store.
Since we closed our doors on March 14, The Bargain Box Committee members have been "meeting" via email. New procedures, schedules, and floor plans are being discussed for the eventual reopening, which will ensure the health and safety of our volunteers, shoppers, consignors and those dropping off donations.
We will continue to rely on current information from the CDC and Montgomery County Executive Mark Elrich. As always, the health and well-being of our volunteers and customers is our foremost priority. We will keep you informed as to when and how we will be able to reopen for business.
In the meantime, please be patient.
Thank you and stay well.
Sincerely,
The Bargain Box Committee & Volunteer staff
Questions? bargainbox@cecrockville.org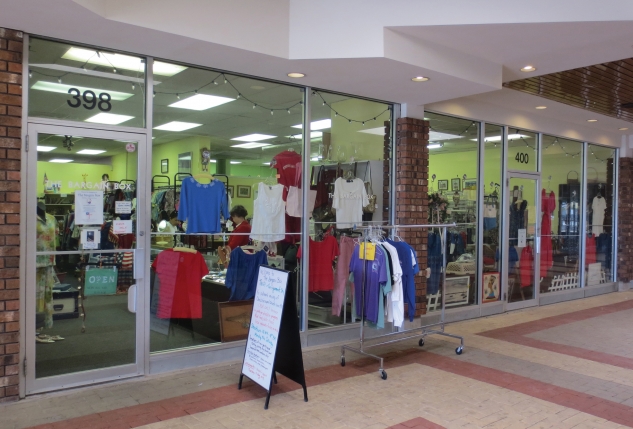 The Bargain Box sells clothing and household items at very affordable prices. All volunteers are members or friends of Christ Church. Bargain Box proceeds support outreach programs in the local community.
Download Our March 2020 Sales Flyer
Bargain Box Cookbook

The first ever Bargain Box Cookbook, full of recipes from volunteers and customers, is now available at the store for $5.
Where Does Our Money Go?
2019 BARGAIN BOX DONATIONS TOTALLED $11,150.00
CHRIST CHURCH OUTREACH ACTIVITIES
Rector's Discretionary Fund (CEC families in need)
Assistant Rector's Discretionary Fund (CEC families in need)
English Conversation (ESOL) Classes
Outreach Committee Rise Against Hunger Event
LOCAL FOOD BANKS & SHELTERS
Animal Welfare League of Montgomery County (Chompers Pet Food Bank)
Frederick Rescue Mission
Interfaith Works
Manna Food Center
Rainbow Place Women's Shelter
Rockville HELP
City of Rockville Holiday Fund Drive
LOCAL SUPPORT SERVICES for Children & Families
Birthright of Montgomery County
Community Ministries of Rockville
Elderly Ministries Program
Kaseman Health Clinic
REAP (Rockville Emergency Assistance Program)
Interfaith Works
Stepping Stones Family Shelter
A Wider Circle
EPISCOPAL DIOCESE OF WASHINGTON
Episcopal Diocese of Washington Hunger Fund
Episcopal Relief & Development
See What We Sell
For our most current merchandise, visit us on Facebook