The Bargain Box
To everything there is a season, a time for every purpose under heaven - Ecclesiastes 3:1
GOODBYE
As we close the door and turn out the lights for the last time, we would like to thank our volunteers, consignors, customers, donors, and friends without whom we could never had 63 wonderful years in business in Rockville. We will miss you all.
- The Bargain Box
Since we closed on March 13, the Bargain Box Committee members have had concerns about when and how we would be able to reopen for business. At that time we did suspect that two weeks, then even the May 16 proposal, were extremely optimistic. Recently, we have become more concerned about the feasibility of reopening at all, especially since the Coronavirus remains so prevalent and an effective vaccine is not imminent.
It became daunting to think about how any new procedures, store hours, and sales floor designs would be able to ensure the health and safety of our volunteers, shoppers, consignors and those dropping off donations. Operating the store as we once did would not be possible. The physical restrictions of our small back rooms and our crowded sales floor create their own dilemmas for social distancing. The necessary and constant sanitizing would be a job in itself.
Due to all of these factors, we regret to announce that the ministry of the Bargain Box must end. We are saddened and disappointed to come to an end of an era, but we also understand the reality that this is a cruel consequence of the pandemic.
Since opening in 1957, our mission has been to donate our profits to local charities that feed, clothe and house residents in need. We were blessed to be able to support the work of many invaluable ministries within Christ Church and our community for nearly sixty three (63!) years.
As a customer and/or as a donor of gently used treasures, many of you have been an integral part of the success of our mission and we thank you for that.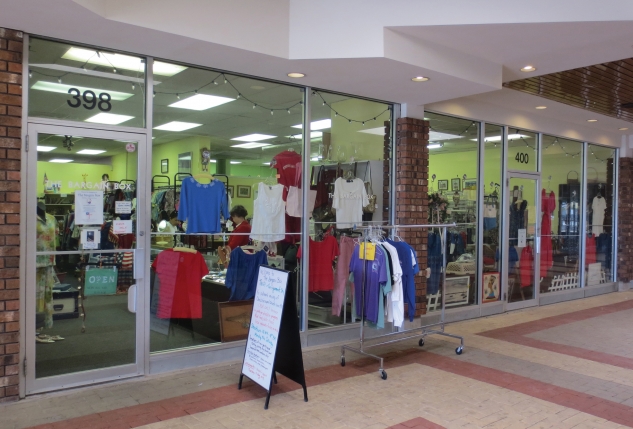 Where Did Our Money Go?
2019 BARGAIN BOX DONATIONS TOTALLED $11,150.00
CHRIST CHURCH OUTREACH ACTIVITIES
Rector's Discretionary Fund (CEC families in need)
Assistant Rector's Discretionary Fund (CEC families in need)
English Conversation (ESOL) Classes
Outreach Committee Rise Against Hunger Event
LOCAL FOOD BANKS & SHELTERS
Animal Welfare League of Montgomery County (Chompers Pet Food Bank)
Frederick Rescue Mission
Interfaith Works
Manna Food Center
Rainbow Place Women's Shelter
Rockville HELP
City of Rockville Holiday Fund Drive
LOCAL SUPPORT SERVICES for Children & Families
Birthright of Montgomery County
Community Ministries of Rockville
Elderly Ministries Program
Kaseman Health Clinic
REAP (Rockville Emergency Assistance Program)
Interfaith Works
Stepping Stones Family Shelter
A Wider Circle
EPISCOPAL DIOCESE OF WASHINGTON
Episcopal Diocese of Washington Hunger Fund
Episcopal Relief & Development