Fellowship & Welcoming
Christ Church is a close-knit community where we experience God's love through fellowship with one another.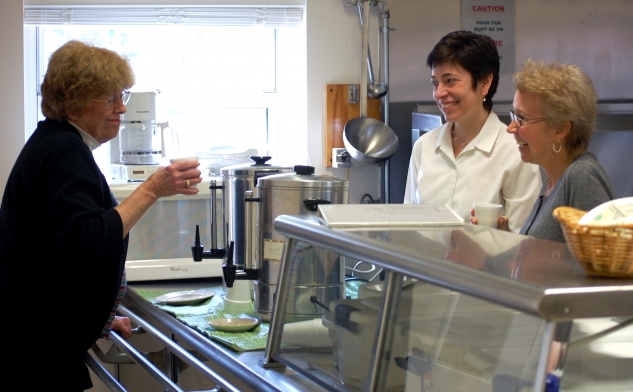 Fellowship Committee
The Fellowship Committee plans, coordinates, and hosts receptions for events and individuals, as well as oversees Coffee Hour, Lemonade on the Porch, Adult Supper Club, and the Adult Christmas Dinner. The Committee meets as needed to plan events.
Coffee Hour
Coffee Hour provides an opportunity for worshipers at the 9:00 a.m. and 11:00 a.m. services to socialize between the two services while enjoying coffee and snacks. Four teams of coffee hour angels set up coffee and lemonade one Sunday a month, and coffee hour bakers prepare food once a month.
Adult Supper Club
Adults get together the second Saturday of the month (except during Lent) from 7:00 p.m to 10:00 p.m. at a volunteer's home for supper and fellowship. Everyone brings a dish to feed eight. In December, we meet in the Dining Room and Murdock Room for the festive catered Adult Christmas Dinner.
Dine and Deal
For those who like to play bridge, Dine and Deal meets the third Monday of each month September through June, with dessert followed by two or three friendly games of cards.
Lemonade on the Porch
During the summer, worshipers convene on the porch of the parish house on the third Sunday of the month for lemonade and snacks following the 10:00 a.m. services. Volunteers prepare and set up.
Welcoming Committee
The Welcoming Committee's goal is to provide a warm welcome to those who are newcomers to Christ Church. The team coordinates the greeter schedule, hosts two newcomer receptions each year, publishes monthly profiles of newcomers in The Angelus, and is open to new ways to welcome and engage those new to our parish. Those nterested in joining the welcoming team can participate through attending meetings (typically held in the evening once every 1-2 months), signing up to serve as greeters, or volunteering to help with the semi-annual newcomer receptions.