The Bargain Box
The Bargain Box is a thrift and consignment shop located in downtown Rockville a few blocks from the Church and just north of the Rockville Metro Station. We are open Monday through Saturday, 10:00 a.m. to 4:30 p.m. We accept cash only.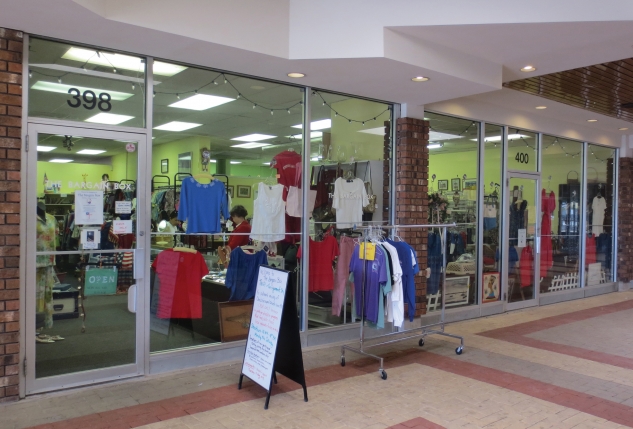 The Bargain Box sells clothing and household items at very affordable prices. All volunteers are members or friends of Christ Church. Bargain Box proceeds support outreach programs in the local community.
Download Our JUNE 2017 Sales Flyer
Towing to Recommence in Parking Lot on June 7, 2017
JBG Management has notified us that they will once again be towing from the Hungerford Plaza parking lots beginning on Wednesday, June 7, 2017.
JBG states, "We believe that our ability to once again tow from the parking lot will allow for better parking conditions for our tenants and the guests of our tenants."
This is a good thing for us as construction workers and Metro riders will be towed. And it is also good that parking is still free. JBG could have gated the lot and required a ticket like the lot at Apollo and Woodside Deli.
New signs will be posted in the parking lots stating that parking is for tenants and guests of 392 – 416 Hungerford Drive. This new wording/numbering should eliminate the confusion caused by the old "414/416" signs.
BBox customers/consignors can also park around our building (414) and the next building to our north (416). They should be reminded not to walk off the lot at any time. This means not even for a minute to run to Walgreen's or to the library! All walk-offs will be towed.
Bargain Box Cookbook

The first ever Bargain Box Cookbook, full of recipes from volunteers and customers, is now available at the store for $10, or two or more for $9 each.
Where Does Our Money Go?
2016 BARGAIN BOX DONATIONS TOTALLED $26,450.00
Animal Welfare League of Montg. County - Chompers Pet Food Bank
Christ Church Assistant Rector's Discretionary Fund - Church Family in need
Christ Church Outreach Committee
Stop Hunger Now
Church Family Housing & Furniture
Christ Church Sunday school & Youth Group
SOS Serving Others Sunday Activities
Youth Group Shelter Project Activities
Senior YG Heifer Farm trip
Junior YG Heifer Farm trip
YG Urban Week DC trip
YG "Pizza & the Works" Shelter Meal
Community Ministries of Rockville
Elderly Ministries Program
Kaseman Health Clinic
Rockville Emergency Assistance Program (REAP)
Episcopal Diocese of Washington
EDOW Hunger Fund
Episcopal Relief & Development
Hurricane Disaster Fund
Tennessee Wildfire Fund
Family Services, Inc. Betty Ann Krahnke Center
Frederick Rescue Mission
Interfaith Works
Friends in Action Program
Interfaith Works WAWAC (Wilkins Ave Women's Assessment Center) - For bedding
& supplies at new shelter location
Manna Food Center
Rainbow Place Shelter for Women
Rockville HELP
City of Rockville Holiday Drive Fund
Salvation Army Hurricane Relief
Stepping Stones Shelter
A Wider Circle
New Mattress Drive
Holiday Giving Program
See What We Sell
For our most current merchandise, visit us on Facebook