The Rev. Debra J. Kissinger
Interim Rector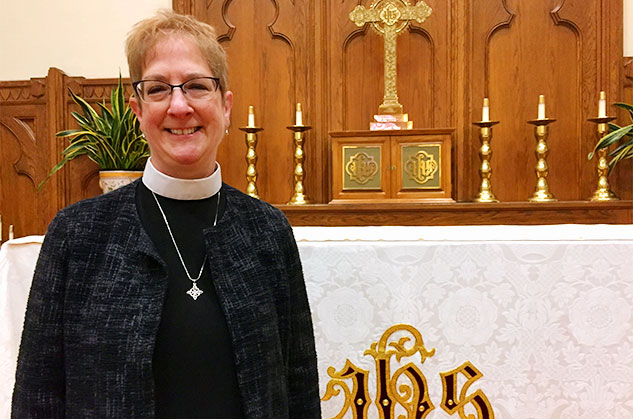 Mother Debra was raised in Pottsville, Pennsylvania. Prior to her calling as a priest, she worked in the marketing and money management field. She has degrees in Business Administration and Sociology from Penn State University (81) and LaSalle University, Philadelphia (88), respectively. She earned her Master of Divinity degree from Berkley Divinity School at Yale University, New Haven, Connecticut (92).
That same year Debra began her ordained ministry as a clergy assistant at Church of St. Barnabas, Irvington-on-Hudson, New York and then went on to serve as Vicar of St. Peter's Church, Oxford, Connecticut (93) and Rector of Grace Church, Willoughby, Ohio (97) where she discovered her passion for redeveloping parishes and helping lay persons grow in their baptismal ministries
From 2001-2008 Debra served on staff in the Diocese of Bethlehem, Pennsylvania as the Missioner to Children and Child Advocate focusing on lifelong Christian formation program development; local, statewide, and national advocacy; and child abuse prevention. She was the first paid child advocate in the Episcopal Church and frequented her state capitol and Washington DC on behalf of children's needs.
From 2008 until June of 2018 Debra served on staff in the Diocese of Indianapolis, Indiana as the Canon for Transition Ministry and Leadership Development. Throughout these years Debra coached over 30 search committees, vestries, and congregations through the search/transition process. She also mentored countless newly ordained and new-to-the-diocese clergy through their time of transition as they began a new ministry. Debra also serves as a bishop election search consultant for the Episcopal Church.
Debra looks forward to the next 10-12 years of her ministry as an Interim and bringing her years of wisdom and experience from the fields of transition, parish redevelopment, formation, and baptismal ministry formation to congregations in the midst of search. Debra is all about encouraging, equipping, and empowering others to be their very best in Christ's name.