The Rev. Lisa M. Zaina
Rector
The Rev. Lisa M. Zaina joined Christ Church on March 1, 2019. Prior to entering the ministry, Lisa spent 25 years living and working in Washington, D.C., and she considers it her home.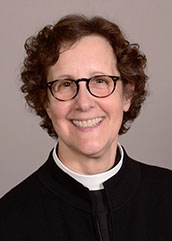 Lisa brings a unique blend of strengths to Christ Church from her work in ordained ministry, government service and the private sector, where she served as an attorney and telecommunications policy expert with senior executive experience. In addition to her deep commitment to ministry and pastoral care, she is skilled in budget oversight, program development and personnel management.
Prior to joining Christ Church, Lisa served as Vicar at Holy Innocents' Episcopal Church in Atlanta. There she served three times as senior priest in the absence of a rector and was involved with the church's school, which is the largest Episcopal Day School in the country. Thus, she comes well equipped to lead both Christ Church and Christ Episcopal School.
A native of Ohio, Lisa received her Master of Divinity Degree from the Berkeley Divinity School of Yale University with a Diploma in Anglican Studies. She has a B.A. in Psychology from the University of Notre Dame and a Juris Doctorate from Wake Forest University School of Law.
Lisa was ordained at the National Cathedral in Washington. Prior to serving at Holy Innocents' Church in Atlanta, Lisa served as the Assistant Rector for St. Mark's Episcopal Church in New Canaan, Ct.
Prior to entering the ministry, Lisa worked to bring telecommunications services and networks to people and places that were challenging to serve. She worked at the U.S. Department of Agriculture as Consultant to the Under Secretary of Rural Development and to the Chief Information Officer and as Chief of Staff to the Under Secretary of Rural Development and the Administrator of the Rural Utilities Service. Before joining the federal government, Lisa held legal, executive and senior executive positions in the telecommunications industry.
In her free time, Lisa enjoys reading, drawing, exercising, traveling and sometimes, doing nothing.