The Rev. John S. McDuffie
Former Rector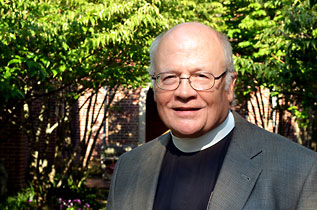 After 19 years of faithful service at Christ Church and 31 years as an Episcopal priest, Fr. McDuffie retired from the ministry on January 28, 2018. The Vestry is currently preparing to begin the search process for a new rector.
Fr. McDuffie was raised in Hendersonville, North Carolina. Prior to his work as a priest, he was a clinical social worker, serving individuals and families in Portsmouth and Charlottesville Virginia, and Fayetteville, North Carolina. He attended St. John's College in Annapolis, Maryland, and later received a Bachelor of Arts degree in philosophy and religion from Boston University. He earned a Master's Degree in social work from the University of North Carolina at Chapel Hill.
Having discerned a call to ordained ministry, John attended the Virginia Theological Seminary in Alexandria, Virginia, and received his master of Divinity degree, cum laude, in 1987. He then went to Akron, Ohio to serve as curate at St. Paul's Church. While at St. Paul's, John was responsible for the youth ministry program, and was active in pastoral care, Christian education, and liturgical planning. He was also active in community and diocesan ministry, serving on the Ohio board of Church World Service, the board of Homeless Shelters in Akron, and on the Diocesan stewardship commission.
In 1989, John accepted a call to be rector of St. Dunstan's Church in Bethesda, Maryland, in the Diocese of Washington. He is a former board member and president of the Washington Episcopal Clergy Association. He has also served four different terms on the Standing Committee of the Diocese, and has been active in field education training of supervisors and field education programmatic development at Virginia Seminary since 1991.
In 1998, John was called to be the 25th rector of Christ Church, where he celebrated his first services on September 6 of that year.
John and his wife Mary live in Bethesda. Together they have five grown children, and currently live with a dog, two cats, and a bird. John's hobbies include music of all kinds. He is a jazz saxophonist and former bandleader. While on sabbatical in 2007, John spent time getting re-immersed in jazz, and this experience provided the inspiration for the jazz vespers services that are held six times a year at the church. John also enjoys reading and physical exercise, including the game of golf.